Hi wez Gadget and Gizmo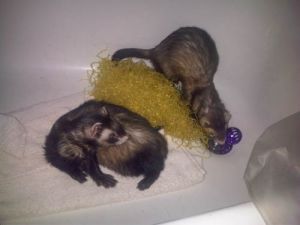 and wez are hanging out at our foster mom of Kansas City Ferret Hotline in Roeland Park, KS
Wez hoping to find a great forever home wif someone that has time for uz. Wez are about four years old and wez get along wif everybody including dogs and cats. Wez are also litter box trained for in our cage and wez use puppy pads or paper when wez out playing.
Wez have love to help organize things for you.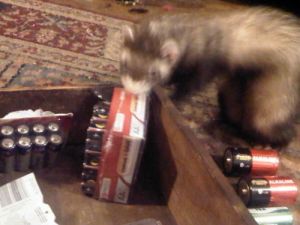 Need more info about uz den dash off a note to
Ktcarr442d@gmail.com
with Gadget n Gizmo in the subject line.
Please if wez aren't da ferrets fer you please pass this post on to a hooman who is in need of being owned. Fank youz
Disclosure:
I receive no compensation for featuring ferrets on my blog other than the hope that someone will give these fun, furry little springs a wonderful home.
Have a Chittering Good Day
Jo
P.S. would you nominate us for a Shorty Award only need to do once thank you.