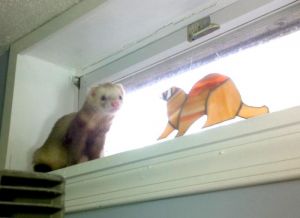 Hi down der. No it isn't the window talking. It's me; Sunny-D.
I am checking out all the nooks and cranies here at the Ferret Inn Rescue and Shelter in Columbia, MD while I wait for the perfect pet hooman to come and be adopted by me.
I had a hooman once but they didn't know much about me and left me in my cage all the time and never checked on my collar. I grew and it didn't. When I first came here they found that my collar was trying to grow into my neck but they fixed that really quickly.
I am a single male ferret and I am about two and a half. I love a good photo op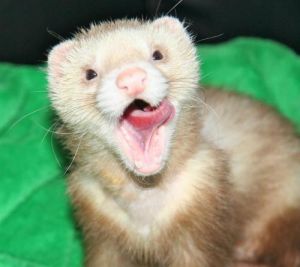 I like to talk a lot while I am cruising around the shelter looking for new things to climb and other ferrets to play with.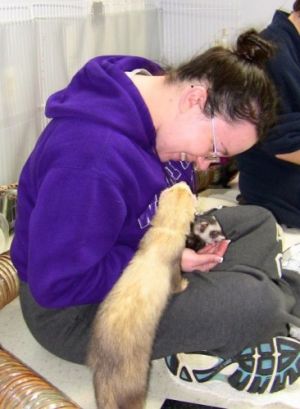 So if you are looking to have a fuzzy with a Sunny disposition then I'm da guy for you.
Disclosure:
I receive no compensation for featuring ferrets on my blog other than the hope that someone will give these fun, furry little springs a wonderful home.
Have a Chittering Good Day
Jo
P.S. would you please nominate us for a Shorty Award in the #Blogger category only need to do once thank you.