This being a brand new year and Enlightened Ferret has gained some new followers. Because we don't often have the time in our busy lives to start at the beginning of something but jump in and work our way forward I've decided that I will be making some posts that are in a way just a review of older posts that were part of the beginning of Enlightened Ferret.
Ferrets are part of the Mustelidae family this includes the weasel, mink, and otter. Mustelidaes are not rodents. The easiest way to determine the difference is by the teeth. Rodents have chisel teeth and Mustelidaes have feline like teeth.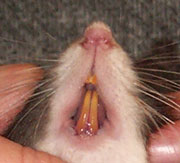 The ferret is listed as the species Mustelidae putorius furo which is Latin and translates into stinky little thief a very accurate name.
The classification of ferret is that of domestic exotic giving many: the misconception that ferrets are wild animals. They are not. Ferrets have been domesticated for over 3000 years but because ferrets are considered an unusual pet, so they fall within the term of exotic.
Ferrets were/are used to hunt rats and rabbits. The USDA used ferrets in this manner until the late 1930's to rid farms of unwanted rodents. Ferrets have also had other jobs such as running wire in buildings until the early 1950's. They have been in movies such as Beast Master, Space Buddies, and Ink Heart. They also helped to run cables for the cameras at Princess Dianna's Wedding.
Ferrets are illegal in New Zealand, Hawaii, California, and on many military bases.
Ferrets can get/give the common cold from/to humans. Because of this, they have been used for research that led to the development of the flu vaccine.
Ferrets became popular pets during the 1980's and are now the third most owned pet in the United States after dogs and cats.
Ferrets come in a variety of colors. Sable, Cinnamon, Champagne, Silver mitt, chocolate, and Albino are the most common colors.

Other coat patterns such as Panda, Blaze, Marked White, and Dark Eye Whites, are distinctive and have a 75% chance of being deaf from a genetic mutation called Waadenburg's Syndrome.
Ferrets can be trained to use the litter box, walk on leash, and do some tricks with some treats and a lot of patience.
Ferrets are the perpetual two-year old and kitten wrapped up into one very small package.
Unaltered females are called Jills and males are Hobs. Fixed females are Sprites and Males are Gibs.
Female ferrets can weigh about 3 lbs and males up to five.
A ferret can get his/her head through a one-inch hole and his/her body will follow it.
Many of these facts will be written about in the future or at the very least referenced back to an existing post.
Disclosure
: The pictures in this post have come from different sites and if you click on them will take you to the site itself.
Happy New Year and have a Chittering Good Day,
Jo