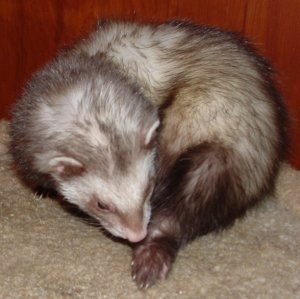 I could be your guiding light. My name is Angel and I am a four year old little chocolate girl.
I am keeping myself amused with the hoomans here at the Pennsylvania Ferret Rescue Centre C in Boalsburg, PA.
I get along with other ferrets and would love to find a forever home with another laid back ferret to hang with. The hoomans here were told I played rough and nipped hard but I have done neither of those things for I am an Angel.
Won't you be my saving grace?
Angel
Disclosure: I create personas for the ferrets I feature from the Pet Finder site and receive no compensation for doing so other than the hope that one of them will find their forever home.
For those that seek medical advice I am not in the animal medical profession. All information contain on my blog is from research and interviews from those that are knowledgeable in the subjects. If you are having a problem with your ferret please see your vet.
Have a Chittering Good Day,
Jo