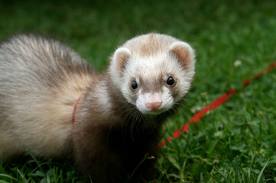 Hello Darlings,
I'm called Savannah and I am looking for the perfect plantation to call home.
Must have caring hoomans that understand that us ferrets have a slight smell no matter what. My last applicants didn't like my perfume.
Second said hoomans must have time for little old me. I love to cuddle and snuggle but I also like to cut a rug or two.
If you have the right ferret mentality and think you need to have a womanly touch added to your home I'm the gal for you.
You can call Ms Lori here at the shelter in Texarkana, Texas at 903-838-3040 to set up a chaperoned introduction date. Hope to meet you soon.
Ms. Savannah
Disclosure: I receive no compensation for promoting any of the ferrets from the Pet Finder site here on Enlightened Ferret. I chose from the many needing new homes and give them a voice using the information that is available.
Photos of the ferrets come from the site as well and are not mine.
Have a Chittering Good Day,
Jo